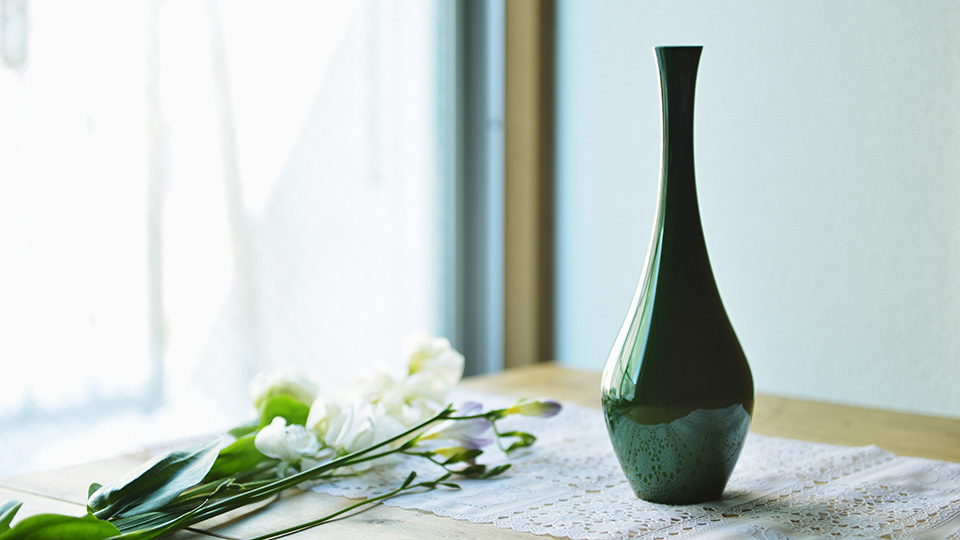 Tamamushi lacquer ware revised

As a result of the blending of traditional craftsmanship and modern technique, Lacquer art born in Sendai has widened the possibilities of the lacquer ware designs and styles.
Tamamushi lacquer ware features the unique beautiful luster that is from silver dust applied underneath Urushi Japanese lacquer. It is named after the jewel beetle because of the rich color resulting from a trick of the light resembling the shell of jewel beetle. Tamamushi lacquer ware represents one of the traditional crafts of Sendai.
The local people in Sendai like to buy Tamamushi lacquer ware products as mementos or gifts because it is originally developed in Sendai. Tamamushi lacquer ware combines concepts of "chemistry of traditional craftsmanship and science" and "product for overseas market".
The technique to create Tamamushi lacquer ware was developed in 1932 at the National Tohoku Craftworks Institute. This institute was an industrial design instruction organization established as a first trial in Japan to research traditional crafts which can be exported. Bruno Taut, a German architect, supervised at the National Tohoku Craftworks Institute and produced many talented people including world-known interior designer Isamu Kenmochi.
The National Tohoku Craftworks Institute got the patent license in 1935, and planned to produce lots of product and accomplished further development.
In 1985, Tamamushi lacquer ware was designated as Miyagi Traditional Craft. They have not only produced traditional goods but also researched new products which fit to modern life style. The released products feature popular cartoon like "Sengoku BASARA" and "JoJo's Bizarre Adventure".
After the Great East Japan Earthquake, the sales declined temporally, but in 2012, they started a new "Touch Classic" series for overseas market. This is the collaboration between designers from all over the world.