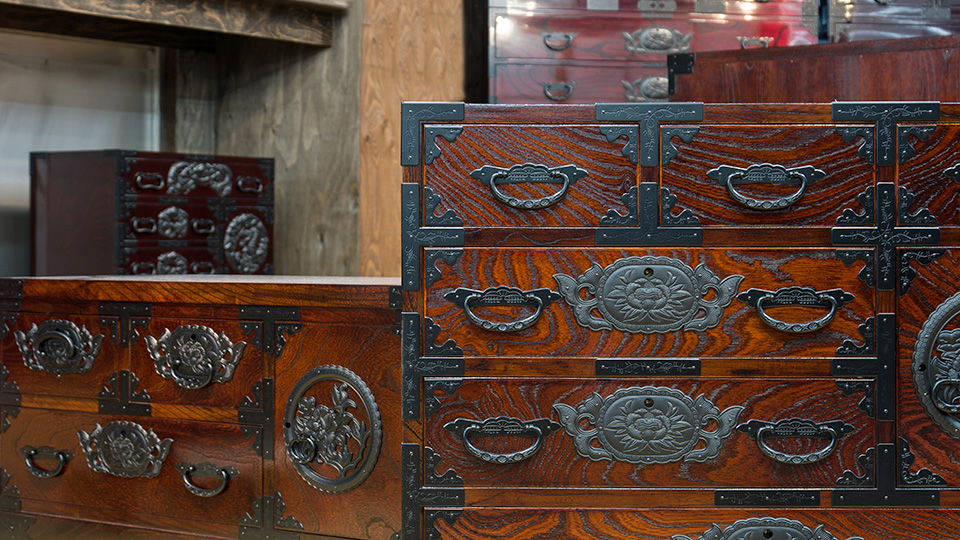 Sendai tansu revised

Gorgeous and solid!
Beloved chest over generations from dedicated craftsmen
Sendai Tansu started at the end of Edo period. These chests were first used by samurai warriors. A typical tansu is approximately 120cm wide and 90cm tall and was traditionally used to store swords and ceremonial dress worn by samurai warriors. Sendai Tansu are crafted from Zelkova or Chestnut wood. Its main characteristic is beautiful lacquering with transparent wood and hand-embossed metal.
Sendai Tansu is made by each craftsman using "woodworking joints," "lacquering," and "hand-embossed metal". These craftsmen are professionals who use their skill and expertise to complete the Sendai Tansu.
After the Great East Japan Earthquake in 2011, Sendai Tansu damaged by tsunami were brought back to ateliers for repair. In this way, Sendai Tansu handed over from parents to children for generations were entrusted to craftsmen to repair or reform. Most Sendai Tansu have been used for over one hundred years because they are so majestic and solid. Even though times have changed, the tradition of craftsmanship has never changed. We are proud of our traditional furniture, Sendai Tansu.