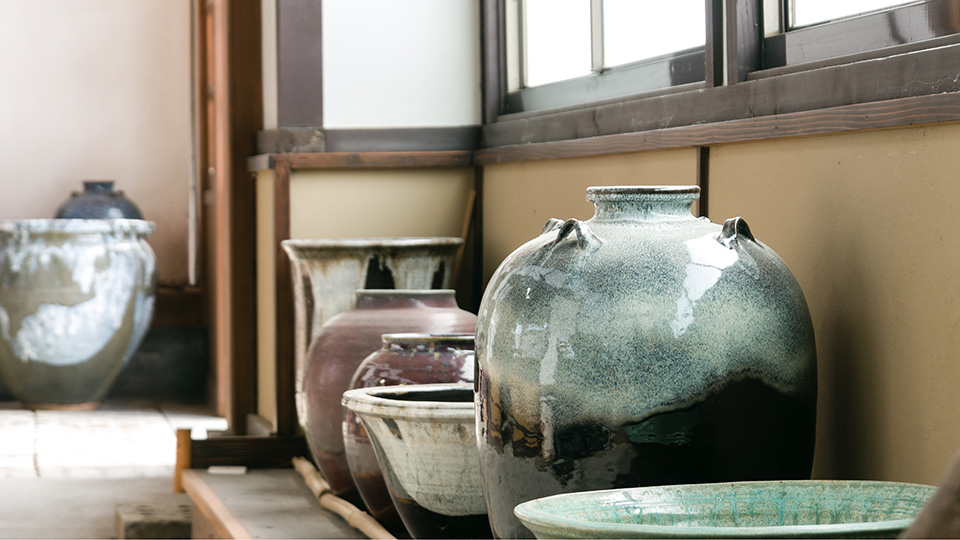 Tsutsumi ware reversed

The simple, warm pottery made out of Sendai clay and glaze.
Tsutsumi ware is named after the Tsutsumimachi area in Sendai city, which used to have a lot of kiln-equipped pottery workshops. Since the late Edo period, they have produced everyday ware for people for over 300 years, exhibiting potter Kyoto-Kenzan's style and tradition. They have been particular about using clay and glaze from Sendai and have produced pottery over four generations. The pottery are characterized by a rough texture and simple looking, with sea cucumber color produced when glaze flows over its black surface. Muneyoshi Yanagi, known as the leader of the Japanese folk art movement, visited Tsutsumimachi and praised Tsutsumi ware as "the representative folk pottery of Tohoku".
In the peak of the period, there were over 30 pottery workshops, but now there is only one workshop called "Tsutsumiyaki Kenba kiln". Kenba kiln has since moved to a suburb area full of green and still produces traditional Tsutsumi ware.
All of Tsutsumi ware is handmade, which is why they have their charm as one-of-a-kind, based on the glaze and fire condition in the kiln. The result of this tradition and handcrafting creates the warm texture pottery made of Sendai produced clay.
After viewing the Tsutsumi ware, you may find your own "one-of-a-kind".